Steps to Great Portraits
You can have a perfect portrait!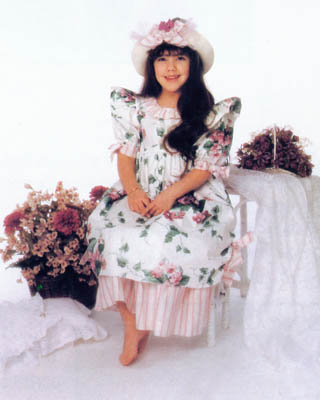 Fashion tips to make it happen.
Creating a perfect portrait takes a little planning. Fine portraiture captures facial expressions and mood, while clothing, accessories, and props are secondary and shouldn't create any distractions. Careful selection of these will avoid dating your portraits.
This child is lost among the colorful clothes and toys.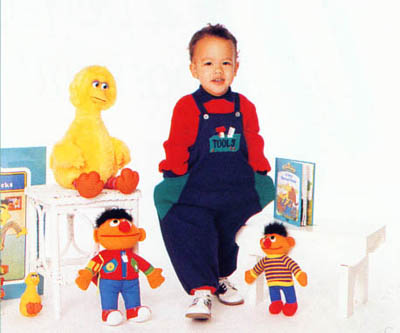 A White background will show off skin tones best when white, ivory or pastels are worn. Be sure to select props that match clothing color. While the colorful pose is a great secondary portrait for a child's playroom, it may not be suitable for a "timeless" quality portrait.
This is a "timeless" portrait...clothing and props have been well chosen.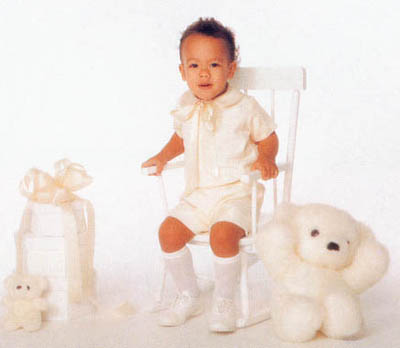 With only two subjects in the portrait, it is especially important to dress in the same color(s) to capture their relationship.
A light suit commands attention and can add weight against a dark background.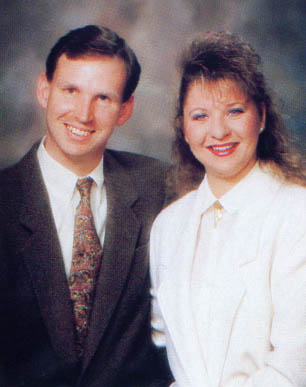 The busy pattern in this blouse is distracting.
With a business attire a pure white shirt or blouse with a dark suit jacket will emphasize your neck rather than your face. Pastel, thin striped, or soft patterned shirt with subtle tie is preferable. You may want to bring extra clothing and accessories "just in case", and we will help you decide if something else would coordinate better.
Excellent coordination. Expressions hold your eye.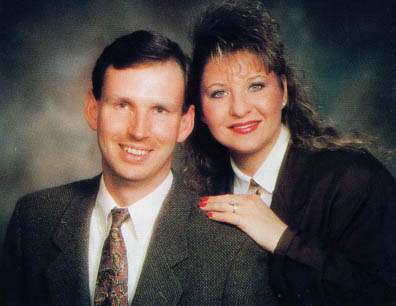 Avoid bold patterns and contrasting colors. Light areas in this sweater "jump out" drawing attention away from his face.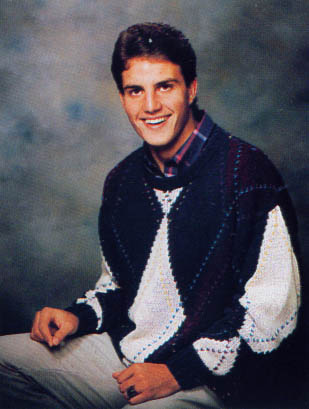 The solid blue sweater is more subtle and coordinates well with his choice of background.
As a background, the outdoors is very busy. It is important to choose only one or two theme colors, with your subjects wearing shades of those colors. While blues are excellent all year, white, ivory, khaki and salmon are great against lush green foliage. Burgundy, brown, tan, and grey are nice late in the season. Avoid all greens, as they clash with Mother Nature.
Simplicity of two colors helps seperate family from the scenery.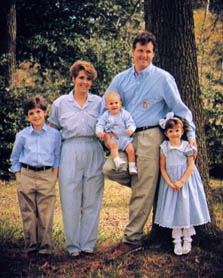 Busy background and busy clothes result in hard to find faces.
Cute expressions...much more striking because of the deep background selected to match their clothing.
When you follow these tips and coordinate your dress from head to toe, you are well on your way to a perfect portrait!
Light suit, red tie and white shirt fight for attention.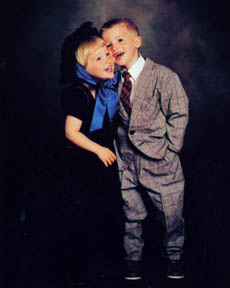 General Fashion Tips
Avoid busy patterns and bright colors.

Light colors are best with light backgrounds and fair complexions.

Darker colors look better with deep backgrounds and dark hair or complexions.

White, ivory, khaki or pastels are best with a white background.

Avoid wearing yellow or green as they can adversely affect skin color.

Shoes and socks should be in key.

Teens and adults should wear long sleeves to cover elbows.

Skirts should cover the knees.
All site contents copyright © 2011 Bells Studio. All Rights Reserved.
Computer Services Lincoln NE
.